We are forever trying to work out who can make a performance, and who can't. It invariably means passing around bits of paper with tick boxes on, between sections, and then collating a list of participants - which has all changed a month later...
So I had an idea that it might be worth sharing in case others found it helpful, and would be interested to hear if any other ideas are out there too.
I have opened an account and set up a schedule requesting availability on the free
www.doodle.com
web site. This is a facility meant to be used for finding a meeting when everybody is free, so dates and times of day can be set out for people to show their availability.
I have listed all the band in sections in the rows, and the columns are set out so that each date has a NO column next to it (when the dates are being set up, three different times are possibe, but the entry is free text, so 'NO' works fine).
Once set up, rather than enter all participants emails into the doodle service to invite entries, I have the URL of the schedule emailed to me so I can send the URL out to all our members.
I get an automatic email when anybody enters, or modifies entries
Entries can be modified at any time
As the year rolls on I can add new dates and take off old ones.
If a member leaves it will be important to change the name of the leaver to "Vacancy" rather than delete, so a new name can be put there in the right section, rather than having to put it at the bottom, as the rows cannot be rearranged.
I can export data easily
It is veryeasy to use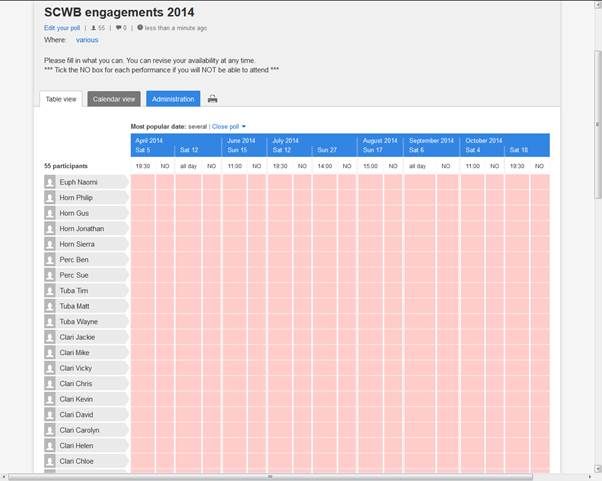 Fingers crossed, hopefully it works well
Chris